We're not Rick's Cycle, Rickscycle or Rickcycle. We are the one and only Ricksycle
The Ricksycle is a recumbent, tandem, sociable, delta tricycle designed with everyone in mind. If you're a traveler, the Ricksycle can be dismantled and placed into small compartments. This is also good for storage. If you have small children, the Ricksycle can be peddled and steered easily by one person. If you want to travel with a group or family of four or six or more, the Ricksycle is extendable to accomplish this. Whether you are old or young, the Ricksycle is the ideal way to cycle.
The Ricksycle is also great for the disabled. It provides stability and side by side advantages for tending to those with a disability.  Visit our product page to see some of the many options for those who cannot ride a regular bicycle.
Read through this page and any questions you may have can be emailed to us. Contact us today.
You have not experienced life until you have ridden on a Ricksycle. Order Now!
We have a Pedal Drive System now available for the Ricksycle. This is a system that will drive the passenger's feet as you pedal. Great for rehabilitation or keeping someone with a disability moving. For more information on our Pedal Drive System please Contact us today.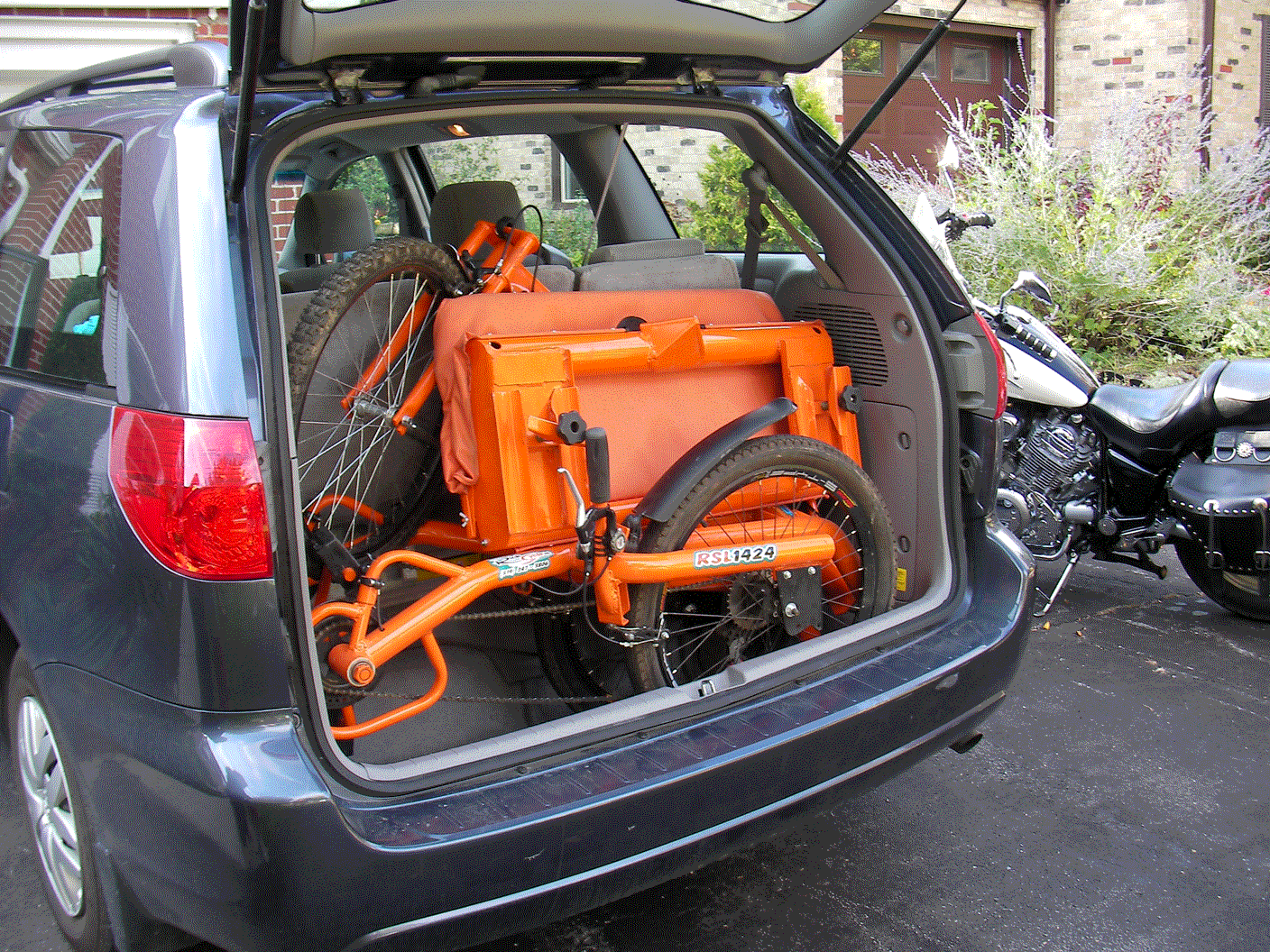 Put me in the trunk and take me with you!!!
The Ricksycle separates into four manageable pieces for easy storage, the front wheel, the two side wheels and the seat. The heaviest being approximately 30 lbs (15 kg). The entire Ricksycle will fit into a space of 5 feet by 3 feet by 20 inches (152 cm x 92 cm x 51 cm).
The Health benefits of cycling are huge. Now do it with your family or friends for quality time and you have double the benefit and a lot of fun.
Storage
Store the Ricksycle in the car garage without taking it apart. It takes up only 2 feet x 4 feet (61 cm x 122 cm).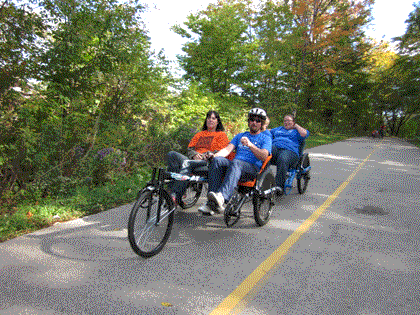 View on a Bike Trail
The Ricksycle is 48 inches (122 cm) wide and tracks at 40 inches (102 cm). Pictured at Greenway Park in London, ON, Canada.
There is a common myth that the Ricksycle doesn't fit on the trails. Our Ricksycles have been on many trails and yes they do fit. Order yours today and test the trails in your area.
We have 30 day satisfaction guarantee. If your not happy with the product we will refund your money, no questions asked.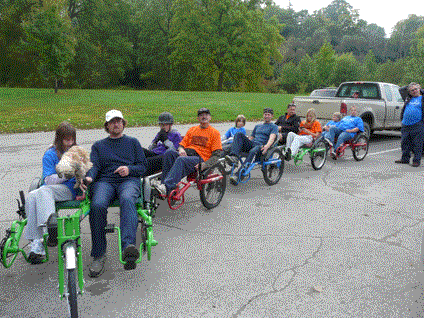 Expandable as the family grows with additional bench seats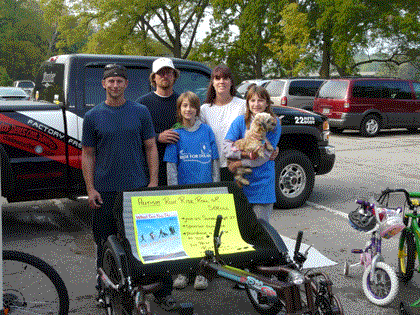 Ricksycle Inc. is a family run buisness in Kerwood, ON, Canada. The possibilities of the Ricksycle are endless. Let us help you build the Ricksycle that is right for you.
For more information or to order yours today please call 519-247-3806 or Toll Free at 866-592-3806 or just click here to order now.